INDUSTRIAL LASER CUTTING SERVICE
Industrial Laser Cutting Service and Bending is now Online
The industrial parts for your company are just one click away, with the best quality and professional service.
Supported formats: DXF, DWG, Ai, PDF, EPS, SVG and STEP.
> Delivery date selection
Materials for your production are always in stock.
At LaserBoost we offer laser cutting and bending metal parts online with no minimum quantity with the best materials.
> Carbon steel
> Galvanized Steel
> Stainless Steel
> Aluminium
> Brass
> Copper
> Natural
> Vibrated
> Brushed with protective film
> Brushed – Premium
> Shiny with protective film
> Shiny – Premium
> Sandblasted
Online part configurator. Instant pricing. Parts on time.​
Upload your parts to our online configurator. Select material, thickness and quantity, the price will be displayed instantly.



Order from 1 to 10,000 pieces. Mix materials, quantities and designs in one sitting.
Laser Cutting with Bending: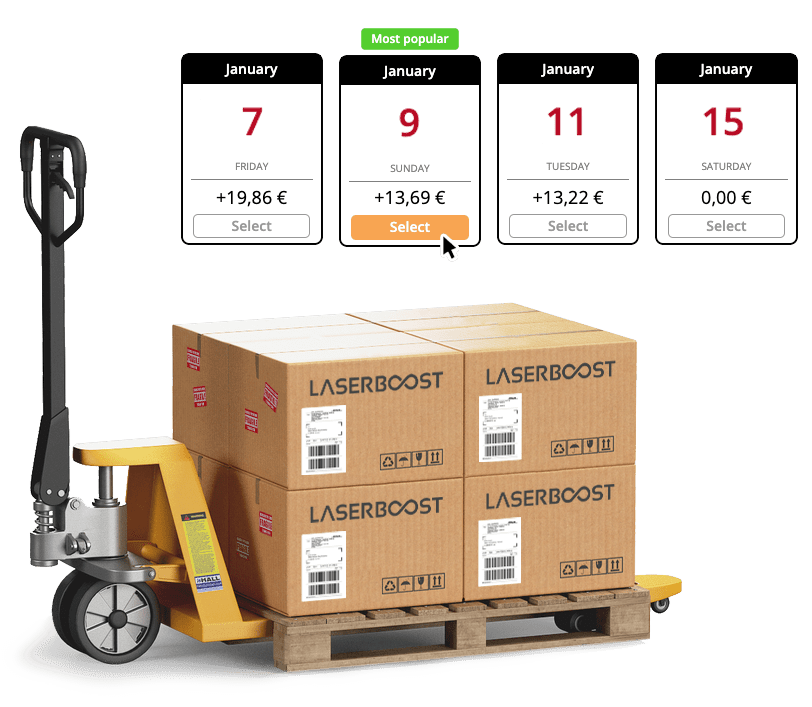 We show you the available delivery dates for your order.
Select the delivery date and receive it on time at your facilities. We ship worldwide.
Trusted payment, the invoice sent to your mail.

In-house production. All under control.
We use our own facilities and machinery to guarantee top-quality production with absolute control of the materials used.
We use intelligent systems for production management and shipment control.
Thousands of companies, manufacturers, engineers, makers, designers, and more trust our online manufacturing service.

DOWNLOAD YOUR QUOTE ONLINE
Order online instantly or download the quote and place the order when you're ready.
Upload and configure your parts, click on the download button and you will have your quote ready to download in PDF.
You can reload the quote by entering the unique Quote Code in the configurator.
Our quotes are valid for up to 1 month from their creation date and are automatically saved in your user account.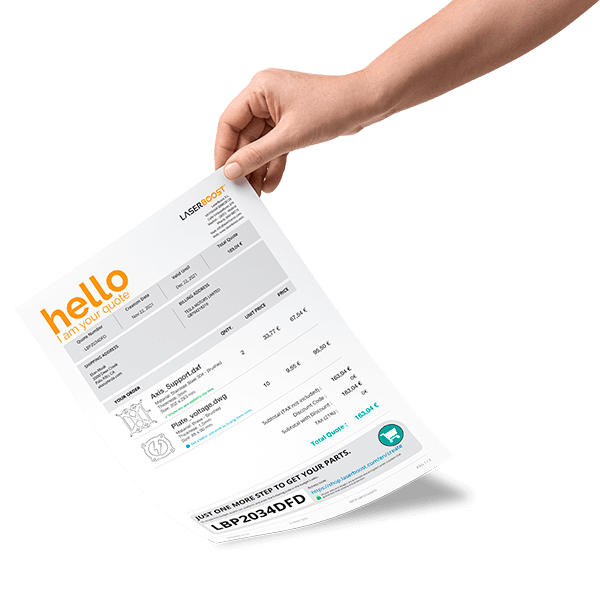 The productive solution that makes sense. Yes, online.
Manufacturing and speed mixed with intelligence.
Metal-Mechanics
Machinery
Jewelry and Costume jewelry
Decoration and Posters
Prototypes
Metal-Mechanics
Precision sheet metal laser cutting services, specialized in materials such as stainless steel, aluminum, carbon steel, brass or copper. From prototype to production, our fully equipped and certified engineering and quality control department will ensure that your product is manufactured to your exact specifications.
Machinery
Jewelry and Costume jewelry
Decoration and Posters
Prototypes