ONLINE LASER CUTTING SERVICE
Your design, Our production.
Your laser cut parts in multiple material and finishes options that will leave you speechless: carbon steel, galvanized steel, stainless steel, aluminum, brass and copper.
Multiple materials and finishes
No order minimums, just the necessary
Your parts ready in just 72 hours
MATERIALS AND FINISHES THAT WILL LEAVE YOU SPEECHLESS
Carbon steel - Galvanized steel - Stainless steel - Aluminium - Brass – Copper
At LaserBoost we offer online laser cutting of custom metal parts with no minimum quantity.
Explore our materials section and discover our finishes.
Get inspired and start your creation


HOW TO ORDER YOUR LASER CUT PARTS

Get inspired, design and get your files ready
Design with the software you are most comfortable with, we accept most vector formats that 2D and 3D CAD programs can save/export. Make sure your files meet our design guidelines. The better the file, the better the parts.
Supported formats: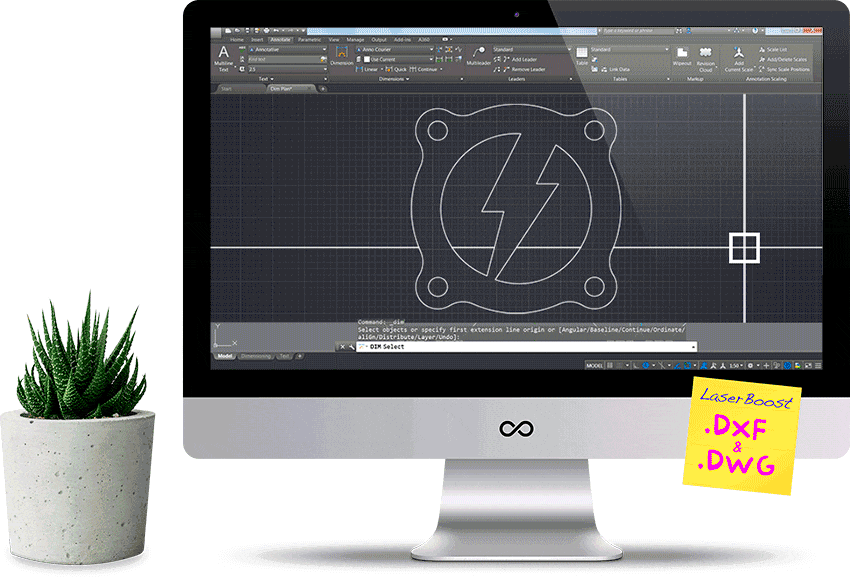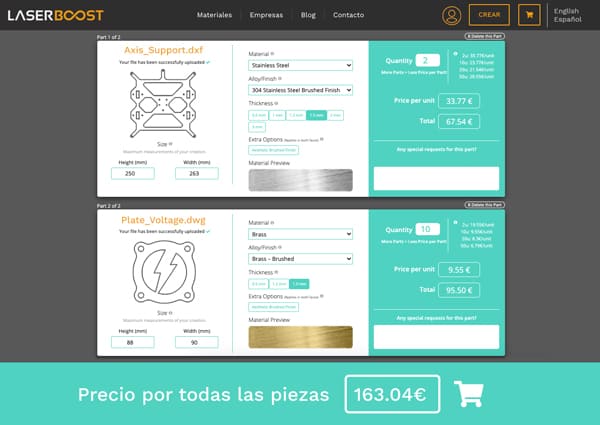 Upload your file to our configurator.
Get the price instantly.
In our online configurator we show you only the materials available in real time on our warehouse and ask you for a few details of the part to be produced to instantly give you a fair and real price.
Check and send your designs to the cart
Review your purchase, tell us where to send your order, select a delivery time and pay safely.
It has never been so easy before.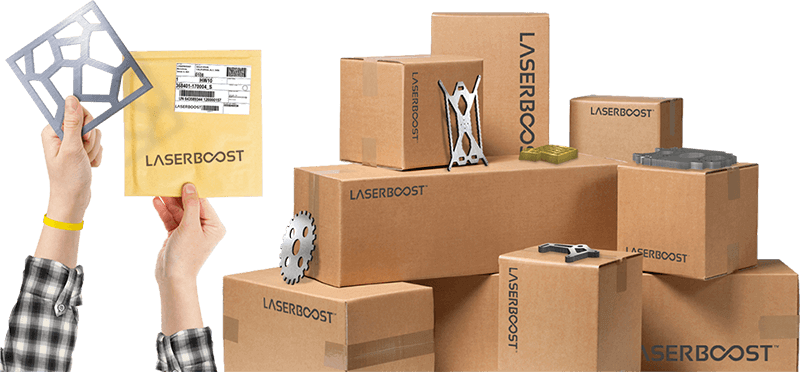 The productive solution that makes sense.
Our software allows us to efficiently manage orders, finishes and shipping, eliminating any production inefficiencies in the workshop workflow, being able to accept laser cut orders of any size, offering a fair and real price and get this delivered in time.
Classic Laser Cutting Service
Online Parts Configurator & User Account
At LaserBoost we offer special laser cutting services for companies from many industrial sectors with no minimum order quantity with fast turnatounds.
#Makers and entrepreneurs
All the resources in our manufacturing center available for jobs that require more than laser cutting. With you from the prototype to the final production.
Get inspired, design and create it.
Follow us on Instagram and check out our latest laser cut creations😊